Introduction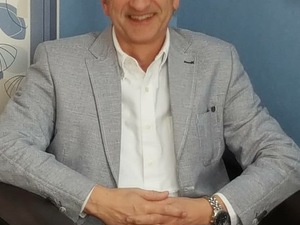 Curriculum Vitae
Personal details: Date of birth: 11 October, 1959 Place of birth: Szombathely Nationality: Hungarian
Address: 9700 Szombathely, Csók István Street 10/A
Education and qualifications:
1978­1984: Medical University of Pécs: University Degree in General Medicine 1974­1978: Nagy Lajos Secondary Grammar School 1966­1974: Hámán Kató Primary School
Employment history: From 1 October 1984 I was working as a physichian assistant in the department of accident surgery, Markusovszky Hospital, Szombathely.
From June 1986 onwards I was working in the general surgery department, where I was dealing with abdominal and breast surgery.
Before I took the professional exam in surgery, I had spent 3­3 months in the departments of orthopedry, thoracic surgery, neurosurgery and pathology.
On 1st of December, 1989 I took my professional exam in General Surgery with excellent results. After that, I worked as a specialist in Markusovszky Hospital, from 1999 I was appointed as an adjunct.
From January 1, 1995­December 31, 1996 I was gaining experience in Plastic Surgery, Burn Plastic Surgery in three different hospitals in Budapest. (Szövetség Street Division of Hospital in Péterffy Sándor Street, Kun Street Division, Szent István Hospital, Királyhágó Street Division, Honvéd Hospital.)
On March 7, 1997 I qualified as a Plastic Surgeon with excellent results. From 1997 onwards, I have been performing Aesthetic surgery in Madentko Clinic, Szombathely.
From 2008 ­ as a self­employed ­ I have been doing one­day cosmetic surgery operations in the hospital of Sárvár, as well as doing surgical outpatient care in Vasútegészségügyi nonprofit Ltd., Szombathely.
Courses, Trainings:
Every year I take part in the Congresses of Hungarian Plastic and Reconstructive and Aesthetic Surgery (MPHEST). (Budapest, Lillafüred, Szeged, Nyíregyháza, Siófok, Pécs, Debrecen, Galyatető, Győr).
January, 2003: APTOS ­ soft lifting workshop, Budapest January, 2004: IMCAS Congress, Paris
February, 2004: Advanced Studies in Laser, Budapest
September, 2004: 1st Aesthetic Surgery Symposium in Budapest
March, 2007: "Application of Vistabel in aesthetic practice"
October, 2009: II.International Forum on Plastic Surgery, XIII. Congress of the Hungarian Society of Plastic, Reconstructive and Aesthetic surgery, Budapest
November, 2009: Ablative and fractionated lasers in the practice of Plastic Surgery and Dermatology, Budapest January, 2010: IMCAS Congress, Paris
August, 2010: ISAPS Congress, San Francisco
September, 2010: I.Central European Confidence meeting on face and breast surgery, Szeged
March, 2011: Anti­aging Medicine World Congress, Monte Carlo
October, 2011: Chronic Wound Care Training for doctors in lying and outpatient care , Budapest
November, 2011: ISAPS Instructional Course, Debrecen
September, 2012: ISAPS Congress, Genf November, 2012: Modern micro­sclerotherapy treatment options in the care of varicose veins of the lower limbs, Budapest
September, 2013: VI. International Forum on Plastic Surgery, Budapest
November, 2013: The Aesthetic surgery of the breast, Munich
February, 2014: Madrid Course 2014, Madrid
September, 2014:XXII. ISAPS Congress, Rio de Janeiro
September, 2015: MPHEST Congress
April, 2016: 1st Brazilian ­ German Plastic Surgery Congress, Germany
October 2016. XXIII. ISAPS Congress, Kyoto,Japan
30.October-4.November 2018. XXIV. ISAPS Congress Miami,Florida
I am a member of the Hungarian Surgery Team (MST), the Hungarian Plastic and Reconstructive and Aesthetic Surgery (MPHEST) and the International Society of Aesthetic Plastic Surgery (ISAPS).